"Eat Uni Save Kelp" Sticker
[Please visit EPAShop to purchase. We currently cannot ship while the system is down - sorry for the inconvenience!]
Help bring awareness to protecting our oceans with this sticker. Whether you use it as a bumper sticker or laptop sticker, encourage others to eat uni and conserve our oceans! 

Original artwork. Printed on high-quality adhesive with a glossy finish.

Dimensions: 3"x10"
Great addition to the "Eat Uni Save Kelp" T-shirt!
Some of you have asked us about the meaning behind our "Eat Uni Save Kelp" T-shirts. 
Here is a short article that explains the relationship among sea otters, sea urchins ("uni" in Japanese), and kelp... and why sea otters are so important!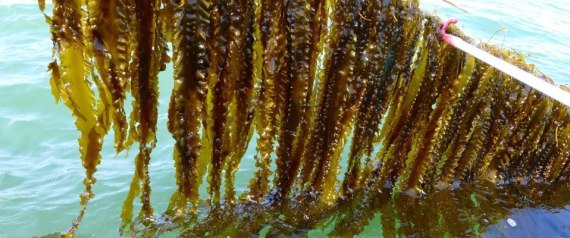 Another article about how kelp can protect the health of oceans... and us! 
So, remember to be like the sea otters and eat sea urchins (uni) that destroy kelp forest.
Give it a try next time when you're at a sushi restaurant or a fancy restaurant that serves food with that gooey orange stuff. 
INSTAGRAM